"I'm chilling, to be honest," he told them Herald and The Age. "I'm just focusing on training and that. There's really no effect. Nothing confirms anything, in terms of how I'll go at any of those places, if I do go. It's important [decision] because it's my stepping stone to life in Europe. I can't go anywhere until January, so it gives me time to make a decision."
Kuol's agent, John Grimaud – who set up a move for his brother, Alou, to Bundesliga side VfB Stuttgart, another club believed to be interested in signing Garang – would not comment and is understood to have been sidelined during recent negotiations.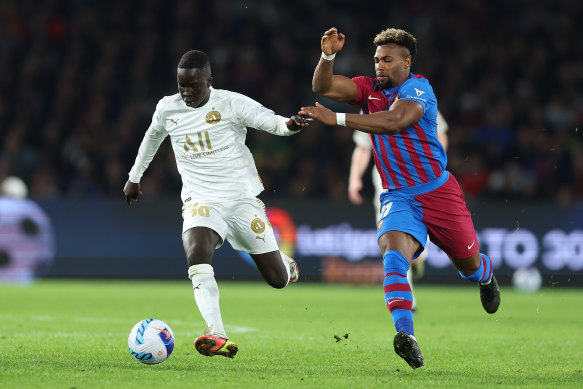 Mariners chairman Richard Peil would not confirm the identity of the club monitoring Kuol, but suggested it was a matter of time until he moves on for a sizeable transfer fee.
"There are top-level clubs across Europe that have expressed serious interest in Garang but, as always, we will respect Garang's decision and his family's decision of when and who he wants to be [with for] his next chapter in football," Peil told the Herald.
"People forget he's still 17. I know there are talented 17-year-olds around the world, but there aren't many talented 17-year-olds that come on and display the level of confidence that he displayed against Barcelona. That confidence, without arrogance, that he displays along with that talent is very unique, in my opinion. He's got to keep his feet on the ground, and I'm sure that will happen – he's got a good support network around him."
Kuol is one of the most gifted players to have come through the Australian system in many years, which is why so many European clubs have sat up and taken notice. He was recently named in the CIES Football Observatory's list of the top 250 young talents in the world, and has obtained an Egyptian passport.
While he is yet to start a league match for Central Coast, Kuol scored five goals in 229 electric minutes off the bench last season in all competitions and looms as a possible wildcard for Australia's 26-man World Cup squad in Qatar.
He twice came close to scoring against Barcelona for the A-League All Stars in front of 70,000 fans at Sydney's Accor Stadium, earning high praise from Xavi, Dwight Yorke and personal compliments from Pierre-Emerick Aubameyang, who swapped shirts with him. Kuol's next short-term challenge is building his fitness base and becoming an effective starter.
Arnold watched Kuol score four goals in a recent Young Socceroos talent ID match in Canberra and hinted that he and Alou could be named in an extended squad for the upcoming friendlies against New Zealand in Brisbane and Auckland, Australia's final games before opening their World Cup campaign against France in mid-November.
"He's doing exceptionally well," Arnold said. "We've got some good young kids, and they've just got to be given that opportunity. We'll bring an extended squad into camp … but the problem is I've got to pick A-League players on reputation more than form because they're not playing, and that puts them in a little bit of a difficulty. "
Loading
Newcastle United, who were controversially taken over by Saudi Arabia's Public Investment Fund last year, are considered a rising power in the Premier League and are expected to use their new owner's financial clout to contend for titles and compete in European competitions like the UEFA Champions League in the coming years.
Kuol comes from a family of South Sudanese refugees who settled in Shepparton, Victoria, once they moved to Australia, with other siblings Teng, 19, and Didi, 11, also aspiring professional footballers.
"I have said this before – I absolutely believe that there will be multiple Kuols playing for the Socceroos sometime in the future," Peil said. "Whether that's two, three or more, I don't know – but I'm confident it will be more than one."