Good employer
The natural economics of software are the reason Salesforce has become one of the most successful software companies. Not only do its programs work well, their popularity is self-reinforcing.
There is a large pool of people in business who understand how Salesforce programs work, which makes it more likely that new companies will hire Salesforce. They will, in turn, train their staff in Salesforce, and so on.
How did Salesforce get to this position? Some people give credit to the way it treats staff.
They get paid a lot. Among ex-Salesforce employees in Australia, there is talk that top salespeople have received $500,000 to $1 million a year in salaries and bonuses.
While such figures can't be verified, there is no question Salesforce spends a lot on staff. The company is generous with training, from how to code to managing conflict. New staff were flown to the San Francisco headquarters, where they got to discuss their career goals with more experienced employees. There was an annual sales conference called Dreamforce. Al Gore once spoke.
Back in their home markets, they had professional reviews every three months. Salespeople who didn't meet their targets were fired.
"When I was there six or seven years ago we used to talk about it being the MBA of software sales," former Salesforce salesman Daniel Bartels told me this week. "You learned more in three-to-four months than you would in years in an MBA or working elsewhere."
Jean-Philippe Picard, who left two years ago to start his own computer-marketing company, said: "Great product, great people, and great place to work."
Hello
Salesforce has adopted a corporate culture based on a Hawaiian concept of hello, or extended family. Under the approach, employees are expected to help each other, and their customers and suppliers. Staff are paid to do charitable work. Stories circulate of the company going to extreme lengths to assist employees in trouble.
One ex-employee said a friend who works at Salesforce was on a holiday in Nepal last October when he was cut off by flooding and mudslides.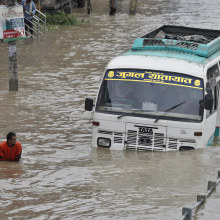 "He got stuck without water, food, medical supplies," he said. "He was told by the Nepalese authorities: 'You're stuck. There's no-one coming.' He made one phone call. He was told a helicopter will be there in 45 minutes, 200 meters from where you are. Salesforce hired the last helicopter in Nepal to get him out."
As the US and Europe possibly head into recessions, Salesforce, like most big technology companies, is under pressure to cut costs. Activist fund managers Elliott Investment Management, Inclusive Capital Partners and Starboard Value have bought Salesforce shares in the past few months. They, presumably, want Salesforce to increase profit margins.
Three weeks ago chief executive Marc Benioff said he intended to cut 10 percent of his 80,000-strong workforce. The decision is a kind of admission that he miscalled the pandemic.
From the beginning of 2020 until the end of 2022, Salesforce's workforce increased by about 60 percent. Now, instead of talking up people, the company emphasizes the need for efficiency.
"Treat them with grace and dignity, but you have to move them out if they're not performing," chief operating officer Brian Millham told a conference in December, according to the Wall Street Journal.
Activist investors such as Elliott typically target companies they believe aren't as profitable as they should be because their leaders aren't tough enough. They want people fired and unprofitable businesses sold.
Typically, they negotiate in private at first. If the board or chief executive doesn't do what they want, they publicly criticize them. This can destabilize the business. Sometimes they try to win board seats.
Elliott, which has a long history of shareholder activism, has politely implied that Salesforce needs more discipline. "We look forward to working constructively with Salesforce to realize the value befitting a company of its stature," the investor's managing partner said.
Capitalism is brutal, and Elliott is unlikely to value Salesforce's corporate family as much as Benioff, one of San Francisco's leading philanthropists. Salesforce shares almost halved in 2022. They're up 16 percent this year – a sign investors think the company is heading in the right direction.
The pressure on Salesforce to reduce costs is an example of how the global economic slowdown may change corporate culture. Leaders such as Benioff will be expected to invest less in people. Business will be rewarded for parsimony over generosity.
In the future, there may be fewer rescue missions in Nepal.