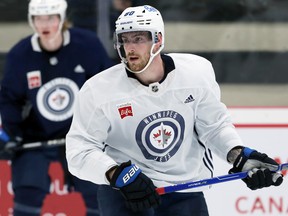 Article content
Going into a Winnipeg Jets season so rife with possibilities, at both ends of the spectrum, it feels like so much hinges on Pierre-Luc Dubois.
Article content
The team's immediate success or failure, its leadership void and its longer-term future – all of it could easily be tied to the imposing center from Ste-Agathe-des-Monts, Que.
Article content
Perhaps that's unfair. Maybe all those things aren't hanging on the 24-year-old's considerable frame.
After a training-camp scrimmage on Friday that saw him knock down a few people, Mark Scheifele among them, Dubois addressed a couple of those issues.
Article content
First, the leadership void, in the wake of head coach Rick Bowness removing the captaincy from Blake Wheeler.
"Whenever something like this happens, you've got to take a step back and it just has to be natural," Dubois said. "There's no, 'It's an opportunity.' You've just got to be yourself. And if it works, it works. If it fits, it fits. If you have influence. But you just have to be natural. You show up every day, you do your job."
Article content
Coming off a 28-goal, 60-point season, Dubois has the potential to be one of the game's premier power forwards for the next decade.
The problem is that most of that could easily be played out on a rink far from Winnipeg.
With rumors swirling he's eyeing a move to Montreal as soon as free agency allows it two years from now, Dubois just signed a one-year deal with the Jets over the summer.
You can't build a future plan around a one-year contract, so even GM Kevin Cheveldayoff is putting the blinders on when it comes to Dubois.
"For us, it's all about now with Pierre-Luc," Cheveldayoff said the other day. "But I'm excited. He's in great shape. He looks like he's had a great summer. The way we're going to play, the way I think Bones wants to play, it's really going to suit a player like Pierre-Luc really well and should create some good excitement for him and the team."
Article content
The odds might be against them, but it's up to the Jets to convince Dubois this is the place he wants to hit his stride.
The place where he can flourish, playing a style that suits him.
The place where he can lead.
The place where he can win.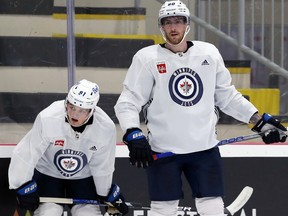 It probably goes without saying that you don't make a player with a one-year contract the captain.
But if Bowness plans a group of alternate or rotating captains instead, why couldn't No. 80 be part of it?
"We'll see on that," the coach said, grinning. "He's a big strong skater. I like that. He works, he competes, and he brings a lot to the table."
Bowness already said he has people in mind for the leadership roles. He'll use camp and the preseason games to confirm it.
"Sometimes during those skates you get a little tired and you let up a little bit," he said. "Well, I'm watching those guys and they're going right through whistle to whistle. Whatever we're asking them to do, they're giving it 100 percent, and that's what we're looking for."
Article content
Dubois has been playing on a line with Wheeler and blue-chip youngster Cole Perfetti, and the symbolism is hard to dismiss.
The old guard on one side, the future on the other, Dubois in the middle, tying them together.
Ask Dubois how this season could affect his future and, like his GM, he hones the focus to the here and now.
"I've said this before and you guys might not like it, but I'm a one-year-at-a-time kind of guy," Dubois said. "My dream is to win a Stanley Cup. And I won't win a Stanley Cup in four years because of something I do now. I want to do it now so I can win this year. So this summer's been about getting ready for this camp, getting ready for this season.
"Last year was obviously a disappointing year, so it's just been about that and not about two, three, four years down the line."
Article content
That might not be a bad approach for everyone not in the GM's chair. Throw the contracts out the window, never mind the closing Stanley Cup window, and just get to work erasing the stench from last season.
"When you have a disappointing year like last year, you remember that," Dubois said. "And it's not a good feeling to have. Nobody's in a good mood, nobody's having fun. Scoring goals is great, but winning games is the best feeling you could have."
Winning makes you like a place. Often, makes you want to stay and do it some more.
So yeah, it's a significant year for this team.
Just like it feels like an equally significant one for its budding star center.
Twitter: @friesensunmedia