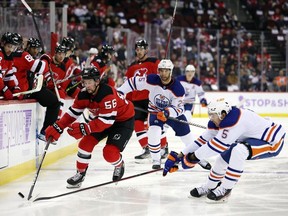 Article content
The New Jersey Devils are red hot and the Ottawa Senators are bottoming out. Sidney Crosby and Erik Karlsson are both back to scoring, while the hot seat is heating up again in Canada.
Article content
With a quarter of the season in the books, here are seven storylines that have emerged in the National Hockey League:
SCORING IS UP AMONGST THE TOP SCORERS
Two months into the season, a whopping 60 players (who have played in at least 10 games) are averaging a point per game. Of those, 40 are on pace for 90 points, 18 are on pace for 100 points, 12 are on pace for 110 points and six are on pace for 125 points.
Last year, eight players finished with 100 points.
Meanwhile, after four players scored 50 goals last season, seven players are on pace to reach that milestone.
And yet, goals per game across the league have only increased from 3.14 to 3.17. What that means is that teams are not necessarily filling the back of the nets en masse. Rather, it's that the best players are getting increasingly better at putting pucks past goalies.
Article content
Players like Edmonton's Leon Draisaitl, who is on pace for 130 points. And his Oilers teammate, Connor McDavid, who is on pace to become the first player since Mario Lemieux in 1995-96 to score 65 goals and 150 points in the same season.
THE LEAFS ARE HANDLING ADVERSITY
From a coach who was on the hot seat to goaltenders who can't stay healthy to a depleted lineup that is missing its top-3 defenseman, the first two months haven't been easy for the Leafs.
Maybe that's not such a bad thing.
For a team that was in danger of sleepwalking through the regular season, the early-season adversity has forced them to hunker down and play with a purpose. We're seeing a more defensively responsible team, one where Auston Matthews is second on the team in hits and where an aging John Tavares looks like he's found another step.
Article content
Either way, the Leafs headed into Friday's afternoon game against Minnesota with the second-best record in the Atlantic Division. With all that's gone wrong, it's quite the accomplishment.
THE HOT SEATS ARE HEATING UP AGAIN
The chances of seeing Barry Trotz behind the net in Toronto have decreased since the first month of the season. But that doesn't mean we won't see the out-of-work head coach back in the NHL sometime soon.
Trotz has made it known that he won't be ready to return until mid-December. By then, he should have no shortage of offers — particularly from Canadian teams.
The Canucks, who are sitting three points behind the wild card spot in the West, could use Trotz. The same goes for the Oilers, who are on the outside looking in at a playoff spot after going 3-7-0 in their past 10 games. And then there's the Senators, who are tied for the least amount of points in the NHL despite going big in free agency this summer.
Article content
While GM Pierre Dorion has repeatedly said head coach DJ Smith's job is safe, you have to wonder if Trotz's availability would change that. After all, with the resume he has, you can bet he's not going to be unemployed for much longer.
THE NEW KIDS ON THE BLOCK
From New Jersey stringing together 13 straight wins to Seattle and Detroit holding down unexpected playoff spots, the first two months have seen several teams make the jump from pretender to contender status.
Of those, the Devils have to be the biggest surprise. This is a team that finished with the fifth-worst record overall last year. Now, they have the third-best record in the NHL.
It's a stunning turnaround. But considering they've had four top-5 picks in the past six years — including two No. 1 overall selections — it's also been a long time coming. The Kraken have also made a similar jump, going from 30th overall in their expansion season to seventh overall, mostly due to the play of Calder Trophy favorite Matty Beniers (14 points in 19 games) and off-season acquisition Andre Burakovsky (18 points in 19 games).
Article content
Whether they can continue it for another four months is anyone's guess, but it's a start.
THE RETURN OF ERIK KARLSSON
The first two months of the season have seen Erik Karlsson return to his Norris Trophy form, with an unimaginable 30 points in 22 games. That's good enough for fifth in NHL scoring. Not bad for a defenseman who had just 35 points in all of last season.
The question is what this means for Karlsson's future?
Despite his offensive output, Karlsson plays on a San Jose Sharks team that is in 13th place in the West. They won't be a playoff team this year. Maybe not for several years. It's why the 32-year-old could end up getting traded this year.
Doing so obviously won't be easy. Not with a contract that carries an $11.5-million cap hit for the next four years. But with Toronto, Edmonton and several other Cup-contending teams in need of some help on the backend, don't be surprised if Karlsson is back playing in Canada sometime soon.
Article content
SID IS ON A MISSION
Chances are that Sidney Crosby probably won't be catching Connor McDavid in the scoring race this season. But with 10 goals and 27 points in 20 games, the Penguins captain is certainly proving that he's still one of the best players in the world.
At that pace, Crosby would finish the season with 110 points — the 35-year-old's highest total since he scored 120 points in his second year in the league.
It's also worth mentioning that Penguins teammate, Evgeni Malkin, who is 36, has 20 points in 20 games. And that Alex Ovechkin, who is 37, has 19 points in 21 games.
In other words, the old dogs still have some life in them.
RACE FOR THE BOTTOM
Tank hard for Connor Bedard? Or lose silly for Adam Fantilli?
However you want to phrase it, with at least two generational talents headlining next year's NHL Entry Draft, it's not surprising that so many teams have started out so slowly out of the gate. This is looking like a draft year for the ages.
Article content
Bedard already has 48 points in 22 games with the Regina Pats, while Fantilli has 23 points in 12 games with the University of Michigan. Both are considered the best prospects since Auston Matthews went No. 1 in 2016.
No wonder the bottom of the standings appears to be more crammed than the top.
Leading the turtle's race are the Anaheim Ducks and Ottawa Senators, who each have a league-low six wins and 13 points. But there are six other teams within five points of last place. Two of those teams include the Buffalo Sabers and Vancouver Canucks, both of whom were expected to make a push for the playoffs, but could be changing gears now that they are so far out of a playoff spot.
If so, it could be worth it.