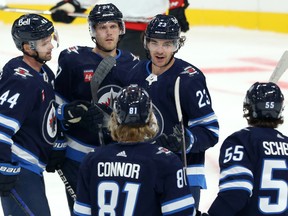 Article content
DALLAS — It was word of mouth that put Mikey Eyssimont on Rick Bowness's radar.
Article content
The newly-minted head coach of the Winnipeg Jets gathered the coaching brains in the organization, including that of the AHL's Manitoba Moose, back in August to compile a scouting report on the team's stable prior to training camp.
Article content
Bowness knew nothing of Eyssimont when he joined the organization, a player who had one NHL game to his name prior to the 2022-23 season.
Article content
But with a wealth of American Hockey League experience on the CV, the coaches were in unison when the 26-year-old's file was on the docket.
"They all said the same thing — lots of energy, he's on the puck, he's good with the puck and he's just going to keep working," Bowness said prior to Winnipeg's 6-1 demolition at the hands of the Minnesota Wild at Xcel Energy. Center on Wednesday night.
Article content
Everything Bowness was told in August was true when training camp kicked off a month later.
And the 67-year-old was impressed.
"Those are the qualities I was looking for, and he had a very good training camp," Bowness said. "We gave him a good look at training camp and he didn't disappoint at all."
Still, Eyssimont soon found himself back in the league he first cut his teeth in during the 2018-19 season.
While the Jets were picking Patrik Laine second overall in the 2016 NHL Draft, Eyssimont had to wait until the second day in Buffalo to hear his name called 142nd overall in the fifth round by the Los Angeles Kings.
Eyssimont would spend the next three years at St. Cloud University, about an hour north of the Twin Cities.
He got his first professional taste with a three-game appetizer with the Ontario Reign, the Kings' AHL affiliate, at the tail end of 2018-19, but didn't get into an NHL game until last season after signing a two-year contract. pact with the Jets in July 2021.
Article content
"I think I know better than anyone that these chances don't come by too often," Eyssimont said after a preseason game earlier in the fall. "So every game I get, every shift I get, even in the drills in training camp, try to be engaged and try to relax and enjoy it."
It's the tenacity he showed then that proved the scouting reports to be true, and when Winnipeg was bit by the injury bug a few weeks ago, Eyssimont was one of the first names called up.
And then he received his second NHL game earlier this month.
"We need some energy and he's got some good skills," Bowness said after Eyssimont drew into the lineup for Winnipeg's 3-2 win in Seattle two weeks ago. "He's good with the puck, puts up points in the American Hockey League. To have him in, he'll get a good look. Hopefully, he can give us that energy and those offensive skills.
Article content
"We'll see what he brings."
For role players looking to crack NHL lineups, every chance is potentially a make-or-break moment career-wise. Five games in now, it's clear Eyssimont has stuck to the "make" plan.
He's provided a suitable replacement for the injured Mason Appleton, giving Adam Lowry's line another whirling dervish of sorts.
The Littleton, Colo., native potted his first NHL goal during Winnipeg's thrilling 4-3 overtime win against the Carolina Hurricanes on Monday and followed that up with his first career assist on Kyle Connor's lone goal in Wednesday's loss.
"It's been a couple of years in the minors. You want to be up here," Bowness said. "Once you get a taste of up here, there's no better place in the world to play. This is the best sport in the world. This is the best league in the world. It's a thrill and an honor to play here every day and he wants to be a part of that."
Article content
As Eyssimont said, he knows that just as well as anyone fighting for permanent NHL work.
Getting his first NHL goal against Carolina was a dream come true.
But Eyssimont, true to the type of guy who has had to scrape and claw for everything he's earned, was far from satisfied.
For Bowness and his coaching staff, they've found a player that isn't just a placeholder.
It's not surprising to see him ahead of Jansen Harkins and Dominic Toninato. He offers the type of tenacity that could, potentially, see him moved up to the first line if Bowness is looking for that Appleton-esque element for that line again.
"He's a scrappy little guy. He's fearless," Bowness said. "As we mentioned before, he's on the forecheck, he's not the biggest guy, he's not the fastest guy, but he's in there and he's effective — he does the job we need him to do."
The type of job that keeps a guy's paychecks stamped by the NHL.
Twitter: @scottbilleck