As the Super Bowl approaches, anticipation is reaching a fever pitch. Now that all four teams have been determined, it's only a matter of time before the ultimate champion is crowned. However, the Dallas Cowboys, who have previously won five Super Bowls, have not made it to the Conference Championship in nearly 30 years. This season, the mighty Cowboys had an opportunity to change that, but unfortunately, their efforts were foiled by Brock Purdy, who amassed 214 yards and led the San Francisco 49ers to a 19-12 defeat of the Cowboys.
In the wake of the game's outcome, former MLB slugger Lenny Dykstra, who first played for the New York Mets in 1985, made a sarcastic remark about the Cowboys' continuous failure in the playoffs since their 1995 Super Bowl win, which also happened to be his penultimate MLB appearance with the Phillies.
It's been a really long time since the Dallas Cowboys made it to the Conference Championship
ADVERTISEMENT
Article continues below this ad
Despite his relatively short career, Dykstra achieved a fair amount of success, including a World Series Championship with the Mets and three All-Star appearances during his prime with the Phillies. Following the Cowboys' defeat, Dykstra made a comparison to the number of his plate appearances since the Cowboys last made it to the Conference Championship, effectively highlighting the length of time that has passed since their last appearance.
Dykstra, while drawing a parallel with his plate appearances from 1996, said, "LOL that I have 164 Major League Baseball plate appearances since the last time the #DallasCowboys were in the NFC Championship! #FlyEaglesFly"
As expected, Lenny's fans were quick to respond to his tweet, showing their appreciation for his clever calculations and joining in on the roast of the Cowboys. And their owner, Jerry Jones. They continued to add salt to the wounds of the Cowboys fans.
ADVERTISEMENT
Article continues below this ad
Who is Lenny Dykstra supporting in Super Bowl week?
It is no secret that Lenny Dykstra is a dedicated supporter of the Philadelphia Eagles, as evidenced by his frequent use of the hashtag "#FlyEaglesFly" in his tweets about the NFL. Dykstra had initially predicted that the Eagles and the Bills would face off in the Super Bowl final. However, with the Bills eliminated from the playoffs, the AFC conference championship will feature the Kansas City Chiefs and the Buffalo Bills. While the NFC will pit the San Francisco 49ers against the Philadelphia Eagles.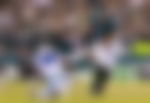 Do you think Lenny Dykstra's prediction will come true? Who are you rooting for in the Super Bowl? Let us know your thoughts in the comments below!
ADVERTISEMENT
Article continues below this ad
Watch this story: Top 5 horrific and life-threatening MLB injuries