Wondering how to see your Spotify history on the desktop app? Here's a quick guide to see those past played tunes.
You can view your listening history in both the desktop and mobile apps, and we'll cover both in addition to instructions for viewing recently played playlists and podcasts on Spotify.
Spotify maintains a history of your listening activity, allowing you to view your most recently played songs, podcasts, and playlists. You can also go through your listening history over the last few months to see what songs have played.
How Do I See My Spotify History On The Desktop App?
The Spotify desktop app shows your listening history in a couple of different ways. A summary of recent listening history is available on the home screen, with an expanded list available under the queue section.
To see your Spotify past played music on the desktop app:
Click the

queue

button in the bottom right corner.

At the top, select

Recently played

.

Your listening history will then appear in the window.
How Do I See My Spotify History On My Phone?
Your most recent Spotify podcast and playlist history can be viewed by scrolling down on the app's home screen. For your song listening history, you'll have to dig deeper.
To see your Spotify history on Android or iOS:
Tap

Home

in the Spotify app.

Tap the

clock icon

in the upper right corner.

Tap and drag up to view additional history.

Tap

See all played

to see everything you listened to on a specific date.
How to See Spotify Playlist and Podcast History
The home screen of both the desktop and mobile apps shows a recently played section containing a summary of your playlist and podcast history. You can easily access the complete list on the desktop app, but the mobile app's version of this is limited.
To see your Spotify playlist and podcast history on the desktop app:
Go to the Spotify app's home screen and scroll down to the

Recently played

section.

Tap

SEE ALL

Your playlist and podcast history will appear.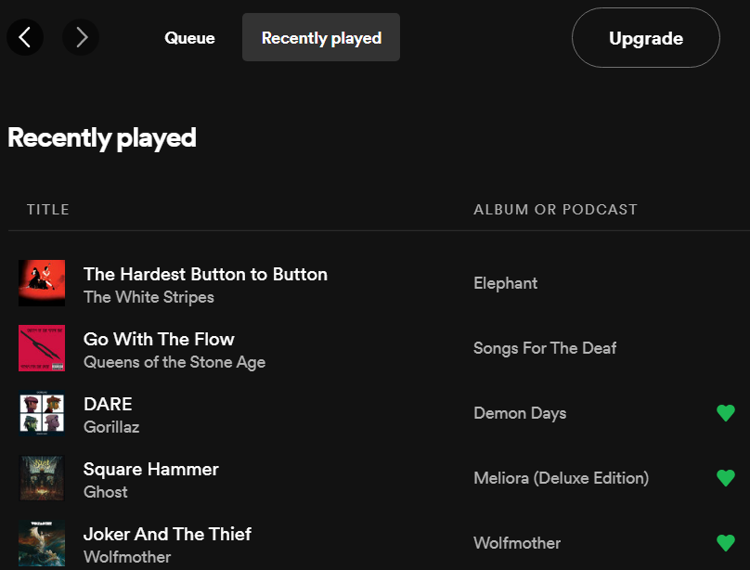 You can also use the desktop app to remove songs from your Spotify history. Go to Recently Played and click the three-dot icon over the item you want to remove. Choose Remove from Recently Playedand that song will no longer appear in the list.