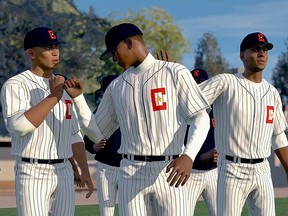 Article content
Gaming technology is introducing the Chatham Colored All-Stars baseball team to a new generation of fans.
Article content
OLG (Ontario Lottery and Gaming Corporation), Major League Baseball (MLB) and the Chatham-Kent Black Historical Society have teamed up with game developers to help create a digitized version of the 1934 Chatham Colored All-Stars, the first team of Black baseball players to win an Ontario Baseball Association championship.
The Chatham Colored All-Stars are now embedded in the video game MLB The Show as a playable team, said Tony Bitonti, OLG director of media relations.
There will be a chance to preview the video game Saturday when a Field of Honor charity baseball game to honor the Chatham Colored All-Stars is held at Fergie Jenkins Field at Rotary Park in Chatham.
Noting the OLG "always wants to be part of the community," Bitonti said the corporation works with an agency on different ways to give back to communities and the story of 1934 Chatham Colored All-Stars came up.
Article content
"We found it a fascinating story that first they won their championship in 1934, broke color barriers and persevered through incredible odds," he said.
It is well documented, the many forms of prejudice endured by the team.
"The times that they were playing in were not the best times for our country, for our province, for the world. . . so for them to persevere and come out champions was incredible," Bitonti said.
He said they were brainstorming ideas and someone suggested "it would be cool if we could recreate the team."
The idea was hatched to recreate the team for a video game, he added.
Bitonti said OLG got the blessing of Major League Baseball for the project.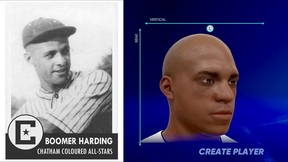 "We worked with game developers that recreated the team through pictures and recreated their uniforms and the 1934 field," he added.
Article content
He said OLG also worked with the Chatham-Kent Black Historical Society which was thrilled, and got buy-in from descendants of team members.
The team is probably well known across Chatham-Kent, "but how well known is it across the province?" Bitonti said.
"We want to draw attention to the baseball legends and allow their memory to live on with the next generation," he added.
MLB Hall of Famer Fergie Jenkins, who will be at Saturday's Field of Honor event, is featured in a video promoting the team's inclusion in the video game that will be part of the pre-game events beginning at 10:30 am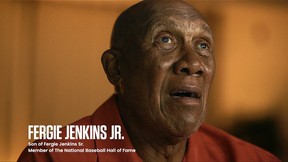 "I think that's outstanding to see a team from the past play," Jenkins says in the video as he gets a preview of the digitized version of the team.
Bitonti said Jenkins will be signing autographs, but he doesn't know if the legendary pitcher will don a uniform and play.
The day will also include a "Golden Agers" baseball game, featuring players 50-plus, beginning at 11 am
An OLG check presentation to the Chatham-Kent Black Historical Society will be held at 1 pm, followed by a second baseball game for the 'New Generation,' featuring players between 18 and 49 years old, starting at 1:45 pm
"We're very excited and we're very proud of this, too," Bitonti said.