One of the best deals this year?
Updated: Nov 25, 2022 10:01 am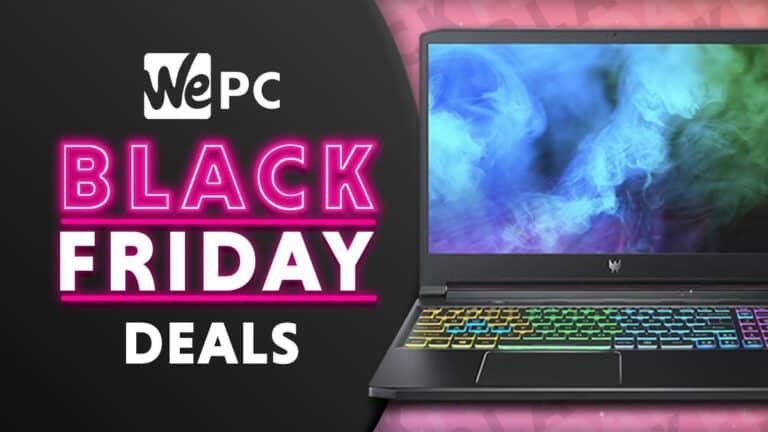 This might be the craziest Black Friday deal on the RTX 3080 Ti Laptop we've ever seen Best Buy are offering an eye-watering savings of over $1000 on the Gigabyte 12th Gen AORUS 17.3″ FHD Laptop with RTX 3080 Ti GPU.
That's an insane saving – with the new price at $2,499.00 down from $3,699.00. We repeat – a saving of $1,200.00. That's an unmissable deal, on one of the very best high end gaming laptops, bringing it within the reach of the budget-conscious bargain hunting gamer. The AORUS 17.3″ with RTX 3080 Ti typifies the kind of insane Black Friday deals that can be found by those in search of a good discount, and it's definitely not one to miss.
The crazy price reduction is made even more unbelievable when you consider the fantastic processing system, display and performance this laptop offers, emblematic of the perfectionist design and quality we've come to expect from Gigabyte. Read on for more information on this bonkers bargain.
RTX 3080 Ti Laptop Black Friday Deal
The Gigabyte 12th Gen AORUS 17.3″ FHD Laptop with RTX 3080 Ti GPU has some killer features which would justify splurging at it's full price, let alone on this absurdly low Black Friday offer. The laptop is equipped with the latest tech to maximize the gaming experience, from the newest NVIDIA GeForce RTX 3080 Ti GPU to the high refresh panels which enable the smoothest, highest quality visuals possible.
Dynamic audio brings you the latest in sound technology, with 2 x 2W speakers and a built in microphone – perfect for multiplayer online gaming or videocalling for work or family meetings. The super thin 17.3″ screen with built in anti-glare technology, make the display visually engaging without sacrificing the lightweight nature of this portable PC.
But how does this deal stack up against other RTX 3080 Ti laptop offers? Check out our top RTX 3080 Ti laptop Black Friday deals below for even more savings…
editorpick
Editor's pick
Save $850.00
GIGABYTE AERO 16 YE5: 16″ 4K/UHD+ Samsung AMOLED, Intel Core i9-12900H, NVIDIA GeForce RTX 3080 Ti Laptop GPU 16GB GDDR6, 32GB DDR5 RAM, 2TB SSD, Win11 Pro (AERO 16 YE5-A4US948HP)
editorpick
Editor's pick
Save $700
Acer Predator Triton 500 SE Gaming/Creator Laptop | 12th Gen Intel i9-12900H | GeForce RTX 3080 Ti | 16″ WQXGA 240Hz G-SYNC Display | 32GB LPDDR5 | 1TB Gen 4×4 SSD | Killer Wi-Fi 6E | PT516-52s-99EL
ASUS ROG Zephyrus Duo 16 Gaming Laptop, 16" 165Hz ROG Nebula HDR QHD 16:10 Display, NVIDIA GeForce RTX 3080 Ti, AMD Ryzen 9 6900HX, 32GB DDR5, 2TB SSD, Windows 11 Pro, GX650RX-XS97
*Prices are subject to change. WePC is reader-supported. When you buy through links on our site, we may earn an affiliate commission. Learn more
Does the RTX 3080 Ti Laptop Black Friday Deal offer good value?
Certainly – this is a top-of-the-range piece of kit which it is unusual to see at such a low price. The RTX 3080 Ti graphics card is a seriously advanced little bit of tech, and it really makes this laptop shine in terms of performance. That's on top of the streamlined, lightweight frame design and superb connectivity. We stress that the money saved is over a thousand bucks – if that's not good value, what is?
Is the RTX 3080 Ti Laptop worth getting on Black Friday?
There's no better time of the year to snag a good deal on this laptop than Black Friday. Although you might see price reductions in other shopping events like the January sales, we'd urge you to consider buying this Gigabyte 12th Gen AORUS 17.3″ FHD Laptop with RTX now, as savings of over $1000 on gaming laptops don't come around very often